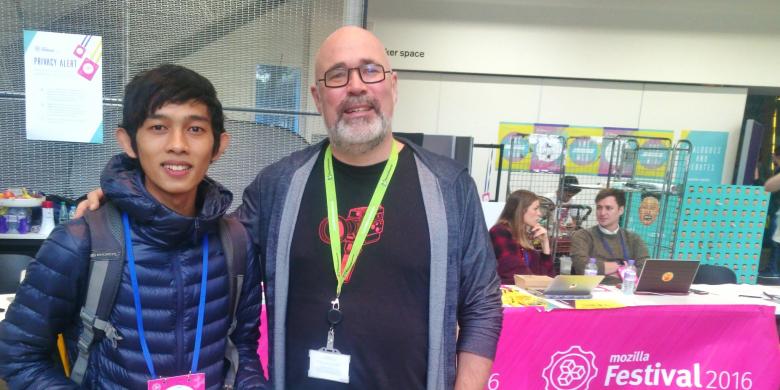 SEMARANG, KOMPAS.com — Karya dari Diky Arga Anggara, salah seorang mahasiswa teknik informatika dari Universitas Dian Nuswantoro (Udinus), Semarang, Jawa Tengah, ini amat patut dibanggakan.
Berhadapan dengan para programer dari negara dunia lain, karyanya tentang software TeaLinux Operating System (OS) mampu menembus kompetisi Mozilla Festival di London, Inggris. Diky bersama komunitasnya mengembangkan sistem operasi komputer yang didesain dan diperuntukkan bagi para programer.
"Bagi saya, ini tentu kesempatan langka. Harapan saya agar bisa memberi hasil yang baik untuk kemajuan programer ke depan," kata Diky saat dijumpai Kompas.com di Semarang, Sabtu (5/11/2016).
Mozilla Festival atau Mofest adalah festival yang mewadahi para programer andal untuk berkompetisi dengan para peserta lintas negara. Para peserta membuat karya untuk dipresentasikan di depan dewan juri. Menurut dia, karyanya adalah satu dari 900 karya yang masuk dalam ajang festival tersebut.
Beberapa kategori karya lalu dikelompokkan dalam 10 bidang kategori, yakni Digital Arts and Culture, Journalism, Open Science, Open Badges, Fuel The Movement, Localisation, Youth Zone, Demystify the Web, A Tale of Two Cities: Dilemmas in Connected Spaces, dan MozEx (Art Exhibit).
Software Linux turunan Ubuntu dikembangkan bersama komunitasnya, Dinus Open Source Community (Doscom). Fokusnya adalah pemrograman.
"TeaLinuxOS kami dikembangkan secara terbuka dan bersama-sama untuk menghasilkan distro Linux pemrograman yang dikhususkan untuk dunia pendidikan," kata Diky.
Usai mempresentasikan karyanya itu, Diky kini ikut berpartisipasi dalam Mozilian, yaitu duta mahasiswa Firefox, dan menjadi duta Mozilla Tech Speaker. Diky ikut ditugaskan dalam setiap gelaran yang bakal dilakukan sebuah perusahaan teknologi ternama tersebut. Prestasi Diky disambut baik pimpinan kampus.
Dekan Fakultas Ilmu Komputer Udinus, Abdul Syukur, senang ada mahasiswanya yang bisa menembus kancah internasional. Ia berharap, prestasi Diky bisa diteruskan kepada mahasiswa lain agar terus berkreasi.
"Semoga ke depan mampu membawa perubahan kualitas yang signifikan," kata dia.
Sumber: