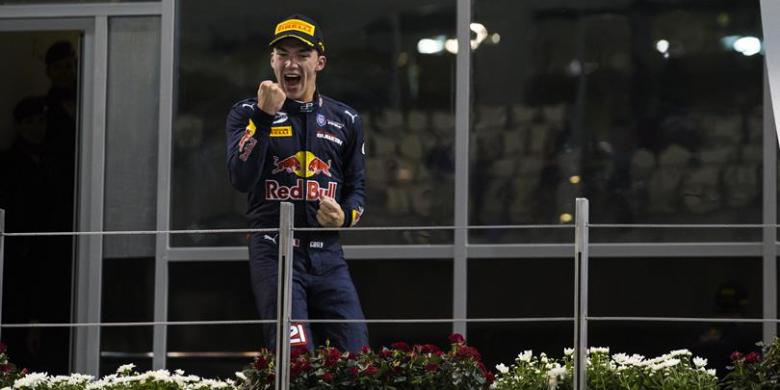 ABU DHABI, KOMPAS.com – Pebalap junior Red Bull asal Perancis, Pierre Gasly, keluar sebagai juara GP2 Series 2016, mengalahkan rekan satu timnya di Prema Racing, Antonio Giovinazzi (Italia).
Gasly menutup musim yang terdiri dari 11 seri ini dengan mengantongi 219 poin, unggul delapan angka atas Giovinazzi.
Sebelum seri terakhir yang berlangsung di Sirkuit Yas Marina, Abu Dhabi, akhir pekan ini, Gasly berada di urutan kedua klasemen dengan 190 poin, tertinggal tujuh angka dari Giovinazzi.
CONGRATULATIONS to @PierreGASLY – our new #GP2 Champion!! pic.twitter.com/vJm51nXjzd

— GP2 Series Official (@GP2_Official) November 27, 2016
Keadaan berbalik setelah balapan pertama (feature race) GP Abu Dhabi, Sabtu (26/11/2016). Gasly mendapat tambahan 29 angka setelah finis di urutan pertama (25 poin) dan start dari pole position (4 poin).
Sementara itu, Giovinazzi hanya mendapat tambahan 10 poin hasil finis di urutan kelima. Gasly berbalik memimpin klasemen dengan keunggulan 12 angka.
Pada balapan kedua (sprint race), Minggu (27/11/2016), Giovinazzi hanya bisa mendapatkan empat poin hasil finis di urutan keenam.
Gasly finis di urutan ke-8 dan tidak mendapat tambahan poin. Namun, koleksi poinnya di klasemen masih cukup untuk memastikan gelar musim ini menjadi miliknya.
Balapan kedua dimenangi pebalap DAMS asal Inggris, Alex Lynn. Pebalap Indonesia, Sean Gelael, finis di urutan ke-21 pada balapan 22 putaran ini.
Presenting our new #GP2 champion ???? Congratulations to @PierreGASLY pic.twitter.com/bfPFSBSEIE

— GP2 Series Official (@GP2_Official) November 27, 2016
Berikut hasil balapan kedua GP Abu Dhabi.
1.
Alex Lynn
GBR DAMS
22 laps
2.
Johnny Cecotto
VEN Rapax
+4.9s
3.
Sergey Sirotkin
RUS ART Grand Prix
+6.6s
4.
Nobuharu Matsushita
JPN ART Grand Prix
+8.0s
5.
Norman Nato
FRA Racing Engineering
+13.3s
6.
Antonio Giovinazzi
ITA PREMA Racing
+16.7s
7.
Artem Markelov
RUS RUSSIAN TIME
+17.8s
8.
Mitch Evans
NZL Jagonya Ayam Campos
+22.6s
9.
Pierre Gasly
FRA PREMA Racing
+23.2s
10.
Jordan King
GBR Racing Engineering
+28.8s
11.
Oliver Rowland
GBR MP Motorsport
+30.3
12.
Nicholas Latifi
CAN DAMS
+33.4s
13.
Raffaele Marciello
ITA RUSSIAN TIME
+37.7s
14.
Gustav Malja
SWE Rapax
+38.9
15.
Emil Bernstorff
GBR Arden International
+45.3s
16.
Sergio Canamasas
ESP Carlin
+45.9s
17.
Louis Deletraz
SUI Carlin
+46.7
18.
Philo Paz Armand
INA Trident
+50.2s
10.
Luca Ghiotto
ITA Trident
+68.8s
22.
Nabil Jeffri
MAL Arden International
+70.4s
21.
Sean Gelael
INA Jagonya Ayam Campos
+87.1s
Not Classified
22. Daniel de Jong NED MP Motorsport 0 laps completed

Big congratulations to @PierreGASLY! ????????????
2016 #GP2 Champion! ???????? #givesyouwings #RedBullFamily pic.twitter.com/5fvfeqyj1d

— Red Bull Racing (@redbullracing) November 27, 2016
Sumber: