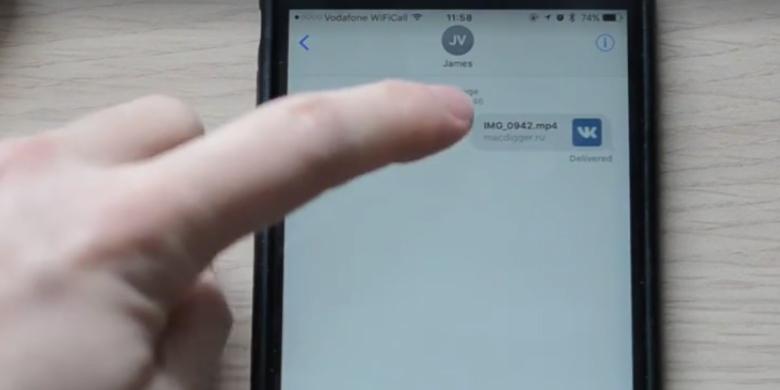 KOMPAS.com – Tautan yang mengarah ke sebuah video tengah beredar di kalangan pengguna gadget Apple. Video tersebut ternyata berbahaya karena mengandung bug yang bisa membuat perangkat Apple crash.
Bug tersebut pertama kali dilaporkan oleh pengguna di situs Reddit, Selasa (22/11/2016). Bug itu menyebar melalui tautan ke file video MP4 lewat aplikasi chat. Perangkat Apple yang terdampak bug ini adalah iPhone berbasis iOS 10.1.
Tautan video bernama IMG_0942.MP4 sengaja tidak ditampilkan di sini, karena bisa berbahaya jika menyebar. Sebagai gambaran, video yang diunggah di akun Facebook The Verge berikut ini menjelaskan bagaimana tautan file video itu bisa membuat iPhone tak berfungsi sama sekali.
Sebagai langkah pencegahan, pengguna iPhone jangan mengklik tautan yang beredar di aplikasi pesan singkat Apple dan berisi link ke video dengan judul MG_0942.MP4.
Tautan video itu menyebar melalui aplikasi pesan iMessage. Tautan tersebut akan membuat perangkat berbasis OS 10 memutar video dengan pemutar default.
Ketika diklik akan tampil sebuah video. Setelahnya, kurang lebih 10 detik, sistem operasi iPhone menjadi crash dan perangkat tidak bisa digunakan lagi.
Meski demikian, dikutip KompasTekno dari The Verge, iPhone hanya akan crash jika pengguna menekan tautan tersebut. Bila video tersebut dikirim sebagai file MP4 utuh, ternyata tidak membuat iPhone crash.
Untungnya, ada solusi mudah untuk mengatasi hal tersebut meski pengguna harus mem-backup data terlebih dahulu. Pengguna hanya perlu menekan dan menahan tombol daya dan Home bersamaan, untuk mengaktifkan hard reset. iPhone akan bekerja normal kembali setelah proses reboot selesai.
Kejadian ini bukan pertama kalinya dialami pengguna iPhone. Tahun lalu, sebuah baris teks membuat aplikasi iMessage tidak bisa digunakan di iPhone. Apple mengatasinya dengan update iOS 8.4.
Baca: Awas, Jangan Ubah Tanggal iPhone Jadi 1 Januari 1970!
Sumber: