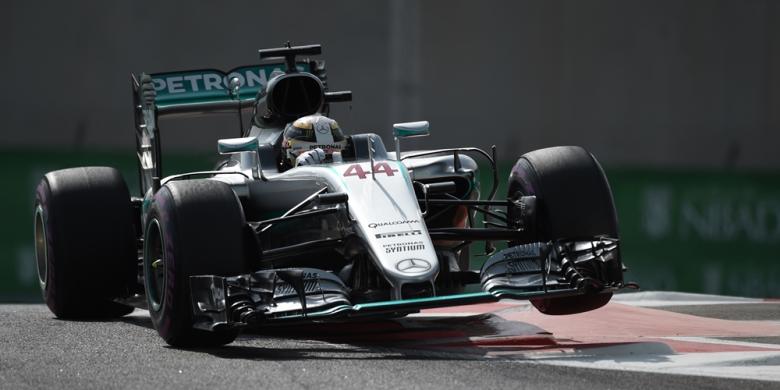 ABU DHABI, KOMPAS.com – Pebalap Mercedes asal Inggris, Lewis Hamilton, mencatat putaran tercepat pada sesi latihan kedua GP Abu Dhabi di Sirkuit Yas Marina, Jumat (25/11/2016).
Hamilton mencatat putaran terbaik 1 menit 40,861 detik. Dia kembali mengungguli rekan satu tim sekaligus pesaingnya dalam memperebutkan gelar juara dunia, Nico Rosberg.
GP Abu Dhabi ini akan menjadi penentu siapa juara dunia musim ini. Gelar ini akan diperebutkan oleh Rosberg dan Hamilton.
Pada 10 menit pertama sesi, beberapa pebalap sudah bergantian memimpin sesi dengan mencatat putaran tercepat.
Insiden juga sudah terjadi pada menit-menit awal. Daniil Kvyat (Toro Rosso) melintir saat melewati tikungan 12. Dia beruntung karena mobilnya tidak sampai menabrak pembatas.
Spin and a puncture for KVY early on in #FP2

He heads back to the garage for repairs#AbuDhabiGP #F1Finale ???????? pic.twitter.com/KuLrUHdAYy

— Formula 1 (@F1) November 25, 2016
Kvyat kembali ke garasi dan memberi kesempatan mekanik Toro Rosso mengecek mobilnya.
Hingga 15 menit pertama sesi, Kimi Raikkonen (Ferrari) terdaftar sebagai pebalap tercepat dengan 1 menit 42,257 detik.
Mendekati 30 menit sesi berjalan, Sebastian Vettel (Ferrari) naik sebagai yang tercepat. Dengan ban ultrasoft, dia mencatat putaran 1 menit 41,404 detik.
Beberapa menit kemudian, Vettel berhasil mempertajam waktu putaran. Namun, posisinya tergeser oleh Rosberg yang mencatat putaran 1 menit 40,940 detik.
BOOM!!!! ????

P1 for @nico_rosberg on a 1:40.940!@LewisHamilton taking to the track on UltraSofts now too…

— MERCEDES AMG F1 (@MercedesAMGF1) November 25, 2016
Rosberg juga tak bertahan lama di posisi tercepat. Hamilton mengesernya setelah menyelesaikan satu putaran dalam 1 menit 40,861 detik.
Nailed it! ????@LewisHamilton snatches P1 from @nico_rosberg by a mere 0.079s!

Closer than close! #F1Finale #AbuDhabiGP #F1 #FP2

— MERCEDES AMG F1 (@MercedesAMGF1) November 25, 2016
Hingga 30 menit terakhir sesi, Hamilton masih bertahan sebagai yang tercepat.
PROVISIONAL CLASSIFICATION (30 MINS TO GO): VERY close between the title rivals as the final #FP2 of 2016 enters its final phase #AbuDhabiGP pic.twitter.com/9iv0I8SRjj

— Formula 1 (@F1) November 25, 2016
Mendekati 10 menit terakhir sesi, insiden menimpa Sebastian Vettel (Ferrari). Gearbox mobilnya mengalami masalah dan dia harus memarkir mobil di sisi lintasan.
VET ????: "I think I have a gearbox failure"

Session over for the four-time world champion#FP2 #AbuDhabiGP #F1Finale ???????? pic.twitter.com/91tFGJ0Y33

— Formula 1 (@F1) November 25, 2016
Hingga sesi berakhir, catatan Hamilton bertahan di posisi tercepat, seperti pada sesi latihan pertama. Rosberg kembai berada di urutan kedua.
Posisi ketiga dan keempat tercepat pada sesi ini ditempati Vettel dan Max Verstappen (Red Bull Racing).
Para pebalap akan kembali menjalani sesi latihan pada Sabtu (26/11/2016) siang waktu setempat. Mereka lalu akan bersaing memperebutkan posisi start dalam sesi kualifikasi.
Berikut hasil sesi latihan kedua GP Abu Dhabi.
1. Lewis Hamilton GBR Mercedes-Mercedes 1m 40.861s
2. Nico Rosberg GER Mercedes-Mercedes 1m 40.940s
3. Sebastian Vettel GER Ferrari-Ferrari 1m 41.130s
4. Max Verstappen NED Red Bull-TAG Heuer 1m 41.389s
5. Daniel Ricciardo AUS Red Bull-TAG Heuer 1m 41.390s 
6. Kimi Raikkonen FIN Ferrari-Ferrari 1m 41.464s
7. Valtteri Bottas FIN Williams-Mercedes 1m 41.959s
8. Sergio Perez MEX Force India-Mercedes 1m 42.041s
9. Nico Hulkenberg GER Force India-Mercedes 1m 42.264s
10. Felipe Massa BRA Williams-Mercedes 1m 42.268s
11. Fernando Alonso ESP McLaren-Honda 1m 42.366s
12. Jenson Button GBR McLaren-Honda 1m 42.823s
13. Esteban Gutierrez MEX Haas-Ferrari 1m 43.012s
14. Romain Grosjean FRA Haas-Ferrari 1m 43.108s
15. Jolyon Palmer GBR Renault-Renault 1m 43.272s
16. Esteban Ocon FRA MRT-Mercedes 1m 43.600s
17. Pascal Wehrlein GER MRT-Mercedes 1m 43.754s
18. Felipe Nasr BRA Sauber-Ferrari 1m 43.903s
19. Marcus Ericsson SWE Sauber-Ferrari 1m 44.045s
20. Kevin Magnussen DEN Renault-Renault 1m 44.117s
21. Carlos Sainz Jr ESP Toro Rosso-Ferrari 1m 44.478s
22. Daniil Kvyat RUS Toro Rosso-Ferrari 1m 45.948s
Sumber: