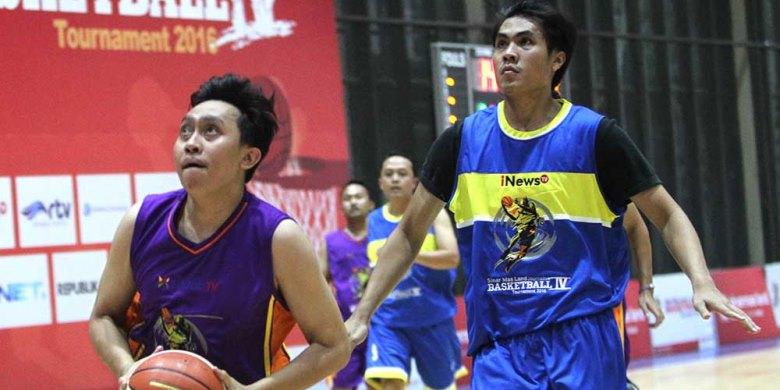 SERPONG, Kompas.com – Ajang basket antar media bertajuk "Sinar Mas Land Journalist Basketball Tournament (SMLJBT) 2016" resmi dibuka, Jumat (25/11). Perhelatan yang dimainkan di lapangan basket The Breeze, BSD City, sedianya berlangsung 25 November – 1 Desember 2016. Turnamen ini digelar untuk kali keempat dan diikuti 15 tim basket media cetak dan elektronik, memperebutkan hadiah Rp. 43 juta.
"Kami kembali menggelar Sinar Mas Land Journalist Basketball Tournament 2016 yang diharapkan dapat menjadi ajang pemersatu bagi para pekerja media, serta memberikan hiburan dan menyegarkan semangat dalam bentuk positif," ujar Dhony Rahajoe selaku Managing Director President Office Sinar Mas Land di acara pembukaan. Dhony mengungkapkan, ajang ini mendapat respon positif dari media dan menjadi turnamen yang selalu dinanti dalam setiap tahunnya.
Dhony mengungkapkan, ini adalah kali keempat Sinar Mas Land bekerja sama dengan Jusraga (Jurnalis Suka dan Peduli Olahraga) menyelenggarakan turnamen basket untuk media, dan untuk kedua kalinya diadakan di Lapangan Basket The Breeze, BSD City.
"Perhelatan ini merupakan kepedulian besar Sinar Mas Land pada dunia olahraga di Indonesia, khususnya basket antar media. Hal ini terwujud dalam komitmen kami dalam menggelar selama empat tahun berturut-turut," imbuh Dhony.
Dalam kesempatan yang sama, Ketua Umum PP Perbasi Danny Kosasih mengaku bangga sekaligus memberikan apresiasi kepada para jurnalis yang juga menyukai olahraga basket. Dirinya berharap para peserta bisa menunjukkan penampilan terbaik dan menjaga sportivitas dalam bertanding.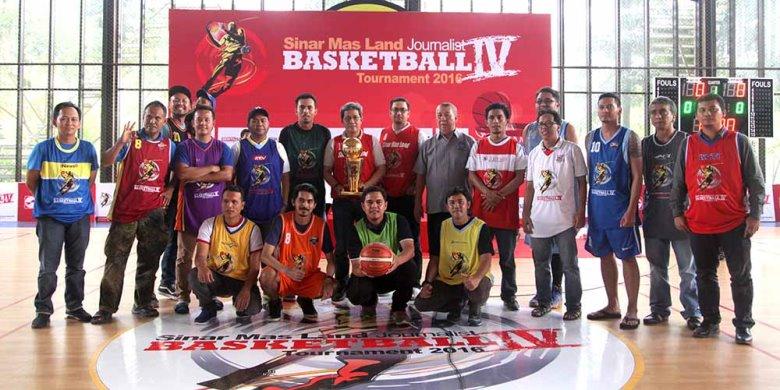 Ajang basket antar media bertajuk "Sinar Mas Land Journalist Basketball Tournament (SMLJBT) 2016" resmi dibuka, Jumat (25/11).
Sedangkan Ketua Panpal SMLJBT 2016, Israr Iftah mengatakan, pihaknya sangat antusias dengan gelaran keempat tahun ini. Turnamen ini sejatinya menjadi ajang untuk mempererat persahabatan dan silahturahmi antara media di Tanah Air. "Melalui event ini, kami ingin menjaga tali silahturahmi dan menggalang persahabatan antar media. Selain itu, bisa bermain dengan maksimal hingga babak final," kata Israr.
Ke-15 tim peserta adalah Kompas Gramedia, Trans TV, Trans 7, RTV, Net TV, Liputan 6 Grup, RCTI, Kompas TV, I News, ANTV, Media Indonesia Grup, Jurnalis All Star, CNN Indonesia, Republika Grup, dan Berita Satu Media Holding. Total hadiah yang diperebutkan dalam turnamen ini berjumlah Rp 43 juta. Selain itu terdapat lomba 3 point contest dan akan dipilih pemain terbaik yang masuk ke final untuk menjadi MVP Tournament.
Sementara itu dari pertandingan hari pertama dibuka dengan kemenangan unggulan teratas Trans TV mengalahkan Trans 7 38-28, Liputan 6 Grup menang 34-23 atas Net TV. Pada laga eksibisi bertajuk "Up Town Rematch", tim Trans TV sebagai juara bertahan menuai kemenangan 54-38 atas tim basket Sinar Mas Land.
Kemudian tim Kompas TV menang telak atas i-News 30-12 dan Jurnalis All Star mengalahkan Media Indonesia Grup 25-19. Sedangkan unggulan kedua Kompas Gramedia harus mengeluarkan ekstra tenaga sebelum menang atas Republika Grup 34-21.
Sumber: